Matthew Ferguson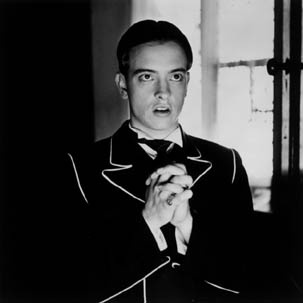 I couldn't find anything on Danny Gilmore. Now Matthew Ferguson, I can do. I routinely hold Matthew Ferguson film festivals in the privacy of my living room and I also adore "Love and Human Remains," even though I wasn't crazy about the ending.

Matthew Ferguson was born in Toronto, Ontario, Canada. Being a Canadian, I have a healthy respect for that. He attended the Claude Watson School for the Performing Arts and performed in regional and community theatre until he made his debut at 16 in "Geometry of Venice." So, he's a young talent. I bet he has a stage mom.




His filmography...

                 1."Femme Nikita, La" (1997) TV Series .... Birkoff 
                      ... aka "Nikita" (1997) 
                 2.Uncut (1997) .... Peter Cort 
                 3.English Patient, The (1996) .... Injured Canadian Soldier 
                 4.Lilies (1996) .... Young Bilodeau 
                 5.Billy Madison (1995) .... Tenth Graders 
                 6.Harrison Bergeron (1995) (TV) .... Garth Bergeron 
                      ... aka Kurt Vonnegut's Harrison Bergeron (1995) (TV) 
                 7.Club, The (1994) .... Darren 
                 8.Eclipse (1994) .... Angelo 
                 9.Life with Billy (1994) (TV) .... Allan Whynot 
              10.Lives of Girls & Women (1994) (TV) 
              11.I Love a Man in Uniform (1993) .... Edward Nichols 
                      ... aka Man in Uniform, A (1993) 
              12.Love & Human Remains (1993) .... Kane 
              13.On My Own (1992) .... Simon Henderson 
                      ... aka Colore dei suoi occhi, Il (1992) (Italy) 



         Notable TV guest appearances

                 1."PSI Factor" (1996) playing "Kilmartin" in episode: "Two Lost Old" 
                 2."Material World" (1990) 
                 3."Top Cops" (1990) 



courtesy of the Internet Movie Database.


Pictures I have found of Matthew as Birkoff in "La Femme Nikita"...
1 | 2 | 3 | 4